Posts for tag: braces
By Dentistry by Design
December 24, 2017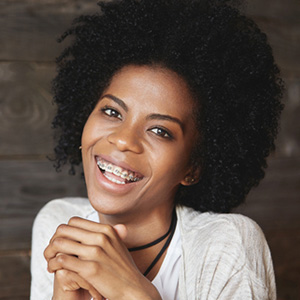 Wearing braces takes time, but if all goes well the changes to your smile will be well worth it. In the meantime, though, you'll have to contend with one particular difficulty—keeping your teeth clean of disease-causing, bacterial plaque.
Don't worry, though—while keeping dental disease at bay with braces can be challenging, it is doable. Here are 4 tips for minimizing your chances of tooth decay or periodontal (gum) disease during orthodontic treatment.
Eat less sugar. Like any living organism, bacteria must eat—and they're especially amenable to sugar. The more they have access to this favorite food source, the more they multiply—and the greater your risk of tooth decay or gum disease. Eating fewer sugary foods and snacks and more dental-friendly ones helps restrict bacteria populations in your mouth.
Brush thoroughly. Brushing with braces can be difficult, especially in areas blocked by orthodontic hardware. You need to be sure you brush all tooth and gum surfaces around your braces, including above and below the wire running through the brackets. A soft multi-tufted microline bristle brush is a good choice for getting into these hard to reach places. Brushing around braces takes more time, but it's essential for effective plaque removal.
Use flossing tools. Flossing is important for removing plaque from between teeth—but, unfortunately, it might be even more difficult to perform with braces than brushing. If using string floss proves too daunting consider using a floss threader or a similar device that might be easier to maneuver. You can also use a water irrigator, a hand-held device that sprays water under pressure to loosen and flush away between-teeth plaque.
Keep up regular dental visits. While you're seeing your orthodontist regularly for adjustments, you should also see your general dentist at least every six months or more. Besides dental cleaning, your dentist also monitors for signs of disease and can prescribe preventive measures like antibacterial mouth rinses. Of course, if you see abnormalities, like white spots on your teeth or red, puffy or bleeding gums, contact your dentist as soon as possible. The sooner a problem can be addressed the less impact it may have on your orthodontic treatment and overall oral health.
If you would like more information on caring for teeth and gums while wearing braces, please contact us or schedule an appointment for a consultation. You can also learn more about this topic by reading the Dear Doctor magazine article "Caring for Teeth During Orthodontic Treatment."
By Dentistry by Design
December 04, 2016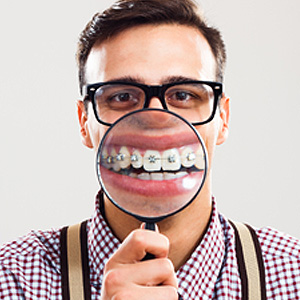 Think you're too old to have your teeth straightened? While we automatically pair "teenager" with "braces," at least one in five orthodontic patients are adults. And there's many more that could benefit, as many as three-quarters of adults with a correctable bite problem.
But although orthodontics can be performed at any age, it's not a minor undertaking. It will require time, patience and expense. So, before you decide to undergo orthodontics, here are 3 simple questions to ask first.
Why? Like children and teenagers, adults can benefit cosmetically from correcting a poor bite. But there's another great reason besides a more attractive smile: misaligned teeth are more difficult to care for than normal teeth. Orthodontic treatment is an investment and potential cost-saver in your future dental health.
Why not? Even senior adults can successfully undergo treatment. But braces might be ill-advised if you have either poor oral or general health. Periodontal (gum) disease, for example, can cause bone loss, which makes it difficult to safely and successfully move teeth (and the effort could worsen current disease activity in the gums). Medical conditions like bleeding disorders, leukemia or uncontrollable diabetes could interfere as well. You'll need both a dental and medical examination beforehand.
How? We can use braces — or we might be able to use a newer, more popular option with adults called clear aligners. These are a series of computer-designed clear, plastic trays you wear in sequence until you finish the series. Each tray is slightly smaller than the previous tray, moving the teeth in much the same manner as braces. But unlike braces, you can remove aligners for cleaning or a rare special occasion — and they're much less noticeable than metal braces. Although in some cases braces may still be the best option, it's also possible clear aligners could be the option you've been looking for.
So, are you ready for a new smile and a more maintainable mouth? Visit us for the answers to your questions and see if braces (or clear aligners) can transform your life and health.
If you would like more information on orthodontic treatment for adults, please contact us or schedule an appointment for a consultation. You can also learn more about this topic by reading the Dear Doctor magazine article "Orthodontics for the Older Adult."
By Dentistry by Design
November 04, 2016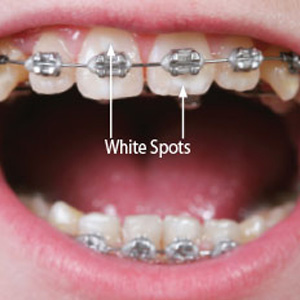 Braces can be a long, involved process, but gaining a more attractive smile and better oral health is worth it. Sometimes, though, braces can produce unintended short-term consequences.
Brace brackets and wires do the work of moving teeth to better positions. They can, however, hinder the wearer's hygiene efforts to remove plaque, a thin film of bacteria and food particles, from tooth surfaces. Plaque buildup increases the risk of dental disease and other ill effects.
One such effect while you're wearing braces is the formation of tiny spots that look pale and chalky on otherwise smooth and polished enamel. These are white spot lesions (WSLs), where acid has remained for too long on the tooth enamel. They occur because acid-producing bacteria escape removal during brushing and flossing due to the braces hardware.
We want to try to prevent WSLs while wearing braces, and not just because they're unattractive. You're actually looking at enamel erosion, which could lead to cavity development at those weakened spots.
Although difficult for you as a braces wearer, daily brushing and flossing is crucial to WSL prevention. You'll need to take more time to be sure you're reaching all around the wires and brackets. You can improve your effectiveness with special brushes for braces and floss threaders or water irrigators. You can also help keep acid levels low by cutting back on acidic foods and beverages, especially sodas, coffee or spicy foods.
Even if you develop WSLs we can treat them effectively, especially if caught early. One way is by aiding enamel re-mineralization through saliva stimulation (the mouth's acid neutralizer) or applying fluoride to the teeth to strengthen enamel. We can also use caries infiltration, a technique that injects tooth-colored resin below the surface of the lesion. This strengthens the weakened enamel and gives the area the appearance of translucence like normal enamel.
While you're wearing braces, focus diligently on keeping your teeth clean of plaque and keep up your regular cleaning visits with us. If you notice any unusual discolorations or abnormalities, see us as soon as possible. Stopping WSLs from developing will help ensure your teeth are healthy and attractive after the braces come off.
If you would like more information on dental care with braces, please contact us or schedule an appointment for a consultation. You can also learn more about this topic by reading the Dear Doctor magazine article "White Spots on Teeth during Orthodontic Treatment."